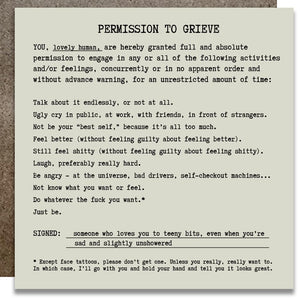 Permission to Grieve Card
PERMISSION TO GRIEVE
YOU, lovely human, are hereby granted full and absolute
permission to engage in any or all of the following activities
and/or feelings, concurrently or in no apparent order and
without advance warning, for an unrestricted amount of time:

Talk about it endlessly, or not at all.
Ugly cry in public, at work, with friends, in front of strangers.
Not be your "best self," because it's all too much.
Feel better (without feeling guilty about feeling better).
Still feel shitty (without feeling guilty about feeling shitty).
Laugh, preferably really hard.
Be angry - at the universe, bad drivers, self-checkout machines...
Not know what you want or feel.
Do whatever the fuck you want.*
Just be.

SIGNED: someone who loves you to teeny bits, even when you're
sad and slightly unshowered

* Except face tattoos, please don't get one. Unless you really, really want to.
In which case, I'll go with you and hold your hand and tell you it looks great.
Product Specs
4.75" x 4.75" (folded)
Blank inside
Letterpress printed
Paired with a recycled kraft envelope
Due to the printing process, which is done entirely by hand, there will be slight variations from print to print, ensuring each card is one-of-a-kind. Like you.
Postage: square envelopes require a $0.70 stamp
---
We Also Recommend
---