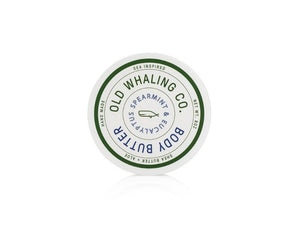 Spearmint + Eucalyptus Body Butter
Rejuvenate the senses with two of nature's best aromas, brisk spearmint and cooling eucalyptus. This clean, cool scent is made with an essential oil and fragrance oil blend. Spearmint & Eucalyptus is perfect for an invigorating start to your day or pick-me-up or as a way to relax and unwind in the evening.
Top: Spearmint, Eucalyptus, Wild Mint
Base: Mint, Orange, Peppermint
This body butter is a perfect moisturizer for after shower, shaving, sun, or as needed! It is lightweight and soaks in quickly. A little goes a long way and will leave you soft and smooth. The star ingredients of shea butter, organic sunflower oil and organic aloe vera is nourishing and great for all types of skin.
This 8oz body butter jar is perfect for bathrooms and bedside tables! 
---
We Also Recommend
---