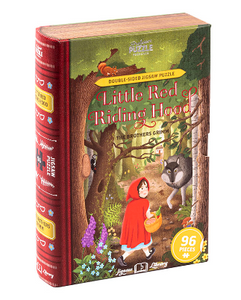 Little Red Riding Hood 96pc Jigsaw
Deep in the forest, a young girl in a long red cloak visits her grandmother, only to discover that the grandmother suddenly has very big teeth! Will the Big Bad Wolf succeed in tricking Little Red Riding Hood, and gobble her up, or will he get his comeuppance? While this much-loved European fairy tale was first written down in the late 1600s, the Brothers Grimm wrote the best-known version in 1812. Their tale of the innocent girl and the villainous wolf has since sparked the imaginations of millions of children around the globe.
Just one piece of our jigsaw library, this 96-piece double-sided puzzle features a beautiful illustration from an iconic scene on one side and an extract from the book on the other, making it the perfect gift for book lovers and puzzlers alike.
Jigsaw dimensions: 24cm x 37cm | 9in x 14in
---
We Also Recommend
---