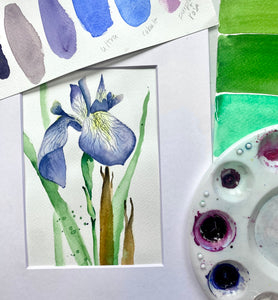 Skills for Mastering Watercolor: a gathering for the study of watercolor
$55

Let's gather and study the exciting medium of watercolor together!
Angela Czepinski is a fine art artist and teacher. She has been teaching different art mediums to ages 5 thru adult for over 25 years, but her love is with watercolor. Not always the easiest medium, she will teach you how to Get Started in Watercolor.

In the workshop, you will start with a warm up exercise that every project needs to begin. Creating paint and learning how the paint feels and moves while at the same time deciding on colors and values. You will be encouraged to draw the simple outline or learn how to transfer an outline to your watercolor paper so don't worry drawing skills are not required. To finish the study each attendee will create a wet-on-wet painting of a Blue Flag, a wildflower of the Indiana Dunes. This will reinforce all the skills we talk about and send you home with a cool piece to frame and hang or add to a bookshelf.
Your workshop ticket includes:
Approx. 2 hours of hands-on instruction from a talented artist and small business owner
Handy color chart to fill in and take home
Sheet with valuable information and room to take notes
8x10 white mat with protective bag 
Project we are completing is shown in product images
10% off all retail purchases the day of the workshop
Important Guidelines: 
Registration: Tickets must be purchased before June 12th.
Cancellations: We do not allow cancellations as we have committed to compensating our instructor for their time, supplies and talent. However, if you are unable to attend the workshop, let us know within 48 hours and you can either send someone else in your place or the instructor can leave your kit for pick up in the days following the workshop.
Feel free to BYOB and invite a friend!
When: Thursday, October 12, 2023  |  6:00pm
Registration Ends: Monday, October 8th
Where:
Toluka Paperie + Gifts
9735 Fran Lin Parkway | Munster, Indiana
Questions:
Call or email - 219-513-9441 |  tonya@tolukapaperie.com
---
We Also Recommend
---