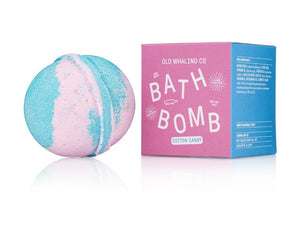 Cotton Candy Bath Bomb
Handmade with baking soda, citric acid, epsom salts, olive, and soybean oil, Old Whaling Co. 8oz bath bombs will leave your skin feeling moisturized and lightly scented. These bath bombs' soothing fizz and sea-inspired fragrance is perfect for a relaxing soak, rejuvenating the senses and cleansing the skin.
At a 2.75" round, these bath bombs are perfect for a single bath. Use caution when entering or exiting the tub, as the oils that make our bath bombs moisturizing, also make for a slippery tub.
Cotton Candy is a sweet, sugary scent inspired by the beachside boardwalk.
---
We Also Recommend
---